Finding the Right Breeder
The Crossfield Doodles Breeding Program
Our clients find us in many different ways.  Most are referred to us by friends, relatives, and some perfect strangers attracted to the doodle at the end of the leash.  Why are our clients (what we affectionately refer to as the "CFD Family") eager to share Crossfield Doodles with so many?  Because they searched and searched for the right breeder and when they found us, they had to let others know about the quality doodles we produce.  We've packed years of research and ethical breeding practice into our breeding program and we believe you are getting the best.  We'll give you the best customer service, the best insight into our practice, the best community of support and the best puppy for your family!  And we hope you will continue to be a part of the CFD Family with your Doodle for years to come!
Want to find out if Crossfield Doodles is the right breeder for you? Learn more about our ethical practices below.
Safe, Humane Breeding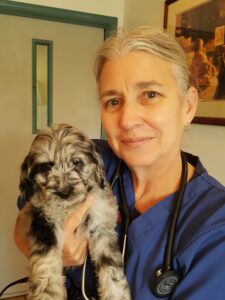 So you've decided to adopt a puppy. Congratulations! 
You've started your search and are comparing breeders. Perhaps Crossfield Doodles is on your list. How can you be sure that CFD is an ethical choice?
Great question! You should know that Crossfield doodles enjoy a Premier Experience from conception to homegoing and beyond. Here, excellent care starts with the safe breeding of healthy dogs. To enter our program, Crossfield breeders must have received "Clear/Normal" genetic medical testing results. You can view these records on the Breeder pages of our website.
In addition to great test results, our breeders must receive "Excellent" health reports from their veterinarians. Finally, and maybe most importantly, Guardians must want to participate. We carefully match males and females once we've confirmed their health and interest. Their sizes and temperaments are only a few of the factors we consider. We then supervise every union. Our breeders are our pets and the companions of our Guardian families. Their well-being is our priority! We are actively involved during sessions to keep the dogs safe.
Strong Pedigrees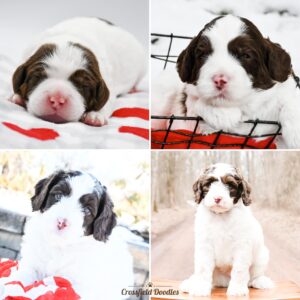 You've chosen the Labradoodle breed intentionally. Perhaps you owned a doodle in the past, met one around town, or read a rave review. Either way, you want a bright, classy, allergy-friendly companion of your own. 
So how can you be sure Crossfield doodles have these characteristics?
Ancestry & breeding play essential roles. Rest assured. Crossfield doodles have strong pedigrees. As part of our program, your pup benefits from an established bloodline. Most of our breeders come from lines we began years ago. So your pup likely represents the 3rd or 4th generation. His mother is probably a daughter or granddaughter to one of our original girls.
We make our breeding plans to provide your pup with a superior temperament, look, and health. For example, we may have kept his parents as pups to represent specific CFD pairings. Or we may have welcomed them from other respected programs to strengthen the line. Your pup is the product of our team's decades of combined experience. Talks with geneticists, renowned vets, peer breeders, and our independent research have informed his conception, birth, and early training. He also comes with a health guarantee. This includes a 1-year warranty against genetic diseases. We can make this promise based on his parents' "Clear/Normal" DNA testing results.
All of this (and more) are part of the Premier Experience you and your classy companion will enjoy.
Diet & Nutrition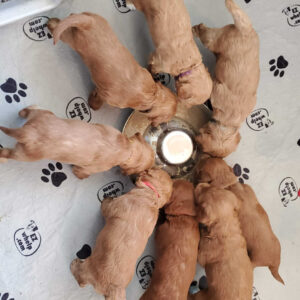 How will he gain (and maintain) the strength he needs? Well, nutrition plays a huge role. This is why a balanced diet is a central part of the Premier Crossfield Doodles Experience. Know that at CFD, we take growth & development very seriously.
As soon as your pup was born, we helped him begin nursing. His mom will provide 100% of his food for the first few weeks. We'll weigh him regularly to ensure he's gaining well. Next, your pup will begin to eat "mush" (softened kibble) in addition to Mom's milk. He'll drink lots of water and receive daily vitamins, probiotics, and a parasite-preventative. Soon, he'll transition to dry kibble and prepare to meet you! It's only the beginning of his growth, but rest assured, we're here to help! Your dog's ongoing wellness is vital. This is why—on adoption day—we'll recommend a high-quality chow and a daily multivitamin. We'll even guarantee his health if you use NuVet Plus®.
Exercise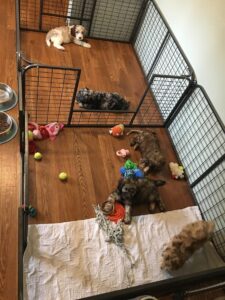 You want a comfortable, active life for your pup, and we do, too. This is why we pay so much attention to his exercise while he's in our care. 
At Crossfield Doodles, your pup will receive the Premier Experience, which begins with a birth in a whelping box.
Since his hip and shoulder joints will still be developing, he'll need solid footing. His box will sit on a firm, level surface. A soft, grippy pad will line the floor and provide traction as he motors back and forth to Mom. As your pup grows, he'll become more alert. We'll encourage him to romp and play in the safety of his pen. Our research-based practices expose him to a full range of gentle motions that will build his strength and agility. We'll introduce rattles, hanging bells, and toy chains. Pawing, reaching, and tugging will be great exercises! He'll develop coordination on toddler slides and balance boards. He'll even explore textured surfaces like soft beds and litter boxes.
On adoption day, we'll share some tips for his ongoing wellness. We'll encourage you to feed him a healthy diet and watch his weight. We'll also suggest that you wait a few months before running him on a leash or allowing him to climb stairs. This partnership will prepare him for long-term success.
Cleanliness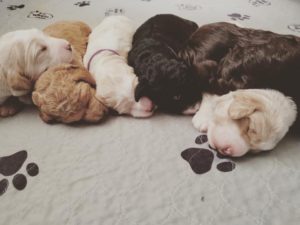 Our foster care structure boards doodles in Guardian homes until adoption day. Breeders are our beloved pets. Their pups enjoy the same love and care. This is why we focus so much attention on cleanliness and hygiene. As soon as your pup was born, we started tidying. We changed the pads in his whelping box often. We let his mom out to potty as usual. Then, he and Mom had sponge baths as needed.
When litter training began in week 3, we kept litter trays separate from his play/sleep area. In week 4, your pup began eating and drinking from clean bowls. After he ate, we transferred him to a litter box or backyard to potty. Again, separate eating and potty areas promoted sanitation. We bathed him as needed to keep him feeling fresh. He lived in our home—not a kennel, so keeping him clean was in everybody's best interest.
He'll look pristine on adoption day, but you'll have to work to keep him (and your home) tidy. Let him out first thing in the morning, after meals, and before bed. Keep a regular schedule, and learn to watch his cues. Before long, you'll be working as a team with your clean and classy companion.
Grooming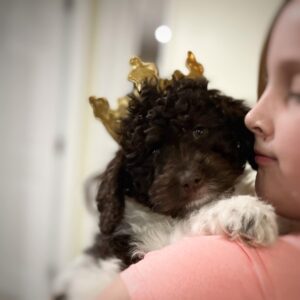 You snuggle in close to nuzzle a pup. He smells fresh and floral. You stroke his silky ears and coat. His tiny, manicured paw slips gently into your hand. Your heart melts; you're smitten! You should know that we've kept your Crossfield doodle impeccably groomed during his entire stay. We do this because we believe that careful grooming is essential to good health.
We trimmed his nails weekly and sponge bathed him until he was ready for his first bath! Since he lived in a Guardian home, he avoided dirty kennel conditions. He learned to use a litter box and stayed cleaner between baths.
Speaking of baths, your pup will have several more before adoption day. First, we'll shampoo, rinse, and dry him—avoiding his sensitive eyes and ears. Afterward, we'll wipe his eyes with a clean cloth and his ears with a special cleanser. Rest assured. We'll make sure he looks his best on adoption day. You'll fall in love all over again with your handsome guy.
Physical Health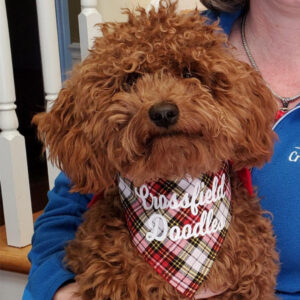 How can you ensure our doodles' internal health is sound? Great question! We partner with excellent veterinarians to give your pup the best possible start. 
Our parasite prevention program, regular health checks, and basic vaccines prep him for success. 
The deworming process begins even before your pup is born. His mom receives meds two weeks before delivery. Then, she and her pups have follow-up doses at 2, 4, and 6 weeks after birth. Before homegoing, the vet will check to ensure that your pup is worm-free.
His newborn appointment includes a physical and easy dewclaw removal. A few days before homegoing, he'll have a well visit. This appointment includes an in-depth exam, distemper, parvo, and parainfluenza shots. On adoption day, we'll pass the leash to you. Along with your healthy pup, we'll give ongoing support. While we'll recommend our favorite local vets, we'll also help you avoid sick visits. We'll suggest gentle remedies and preventative measures to keep your pup's tail wagging.
Confidence
"Will my pup be afraid to leave his littermates?" "Will he be ready to join our family on adoption day?" These are questions we hear often. You may wonder, how does the Crossfield Doodles Experience grow your pup's confidence? How do we prepare him to enter your family?
Well, at CFD, we believe in paws-on learning. This is why we'll raise your pup in our foster home network instead of a kennel. A Guardian family will include him in their activities – alongside their cherished pets. They'll provide a safe environment where he can learn & explore. His early experiences and encounters will be invaluable. He'll meet children and adults of all ages. Many hands will hold and snuggle him. He'll have several baths and car rides. His family will even help him do Early Neurological Stimulation (ENS) exercises. These movements will stimulate his reflexes, help him build resilience, and improve his overall health.
Your pup will have exposure to a full range of sounds. Voices, the vacuum, appliances, electronics, and music will fill the house. Your pup will smell food, fragrances, and odors of varying intensities. These adventures will begin to condition him for life in your home. Yet, only time with you will ultimately establish his behavior. You and your pup will be making many adjustments at first. So reach out to other doodle owners for support. Join our Facebook forum to share challenges, ask questions, and celebrate wins. Patience and consistency will be your best friends (besides your pup, of course).
Socialization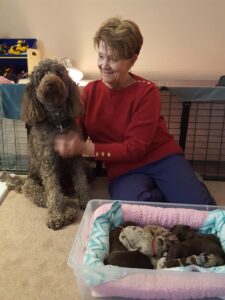 You need an ethical breeder to begin the socialization process. So when adoption day comes, your pup will be ready to connect with you! You should know that Crossfield Doodles provides the Premier Experience in a social setting.
From birth, your Crossfield doodle will live with a loving Guardian family. They'll include him in their routine and love him like their own. In Guardian families with children, the adventures will be endless. Your pup may attend homeschool lessons, ride in a stroller, or play dress-up. He may go along to soccer practice or pose with a human brother or sister on costume day at school. (Yep, it's happened before!)
If his Guardians don't have children at home, they'll invite young friends to play with him. He'll be safe and secure while having the time of his life! His Guardians will snuggle and cuddle him abundantly. If he seems nervous or clingy, they'll spend even more time with him. As adoption day approaches, he'll grow more and more accustomed to touch and attention. Then, it'll be your turn to socialize him. Invite young children and other dogs to play with your pup. Watch him grow friendlier and more confident!
Transparency
As you consider Crossfield Doodles, you should know two truths. First, we want our pups to stay healthy for life. Second, we have nothing we wish to hide.
All of our breeders boast "Clear/Normal" genetic medical testing results. You may view these results at any time. We share most pedigrees via PawPrint Genetics on the Breeder pages of our website. Upon signing a contract, you'll also join our Facebook forum. 75% of our clients stay in touch, so the group hosts over 1,000 members! As you prepare to choose your pup, you'll get to meet other owners & join discussions. Folks share freely, and they tell it like it is.
To further ease your mind, we guarantee our pups. Our written agreement ensures their health on adoption day. It also provides a 1-year warranty against genetic medical problems.